The Right Roof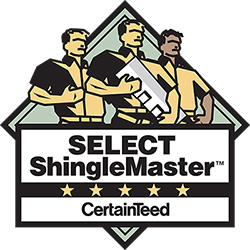 We trust CertainTeed roofing systems
We have over 25 years of hands-on experience in roofing and construction. In this time, we have worked with a number of different materials and products. We believe durability and affordability are crucial attributes in a roofing system, and in this respect, we have found CertainTeed products to be the most reliable.
While we can work with other materials, we strongly encourage our clients to select a CertainTeed roofing system simply because we find this to be the best way to guarantee the quality of the roof. We have come by this brand through honest, hands-on experience in all conditions, and we trust that the quality of the product lives up to the quality of service we offer.
In short, we want to give you the most practical roof replacement we can, and we believe a CertainTeed roofing system is the right choice for most situations.